Your Guide to Product-Market Fit
This is a guest post by Georgia Moretto, a first-year business student at Sheffield University.
Seek to delight never merely to satisfy.
This is one of Nick's 4 core values that set him apart.
In this article we're going to cover:
→ Exactly what Product-Market Fit is
→ How Nick coaches founders to product-market fit
What product-market fit is
Have you ever wondered what the term product-market fit means and why startups and investors obsess over it?
Well, look no further.
Firstly, let's begin by defining what product-market fit (PMF) actually is. PMF is the extent to which a product satisfies market demand. Essentially, it's when a product's value proposition, distribution channels and customer needs are aligned.
Although this may seem like a good definition, there are in fact many out there, and there's not a single one that defines PMF perfectly. For example, Paul Graham (Y Combinator founder) describes it as the moment you have made something people want.
When users become evangelists
Sam Altman (the president of Y Combinator) defines product-market fit as the moment users spontaneously tell other people to use your product.
The thing to remember is, it's as important to focus on the product satisfying market demand as much as it is important to discover which market truly needs and is ready for your product.
Here are a few bullet points that sum it up:
· PMF is the stage at which a company hasn't yet scaled up but has successfully identified a target market and has the right product for them.
· PMF is a tangible understanding of who your customers are & how they feel about you and your product.
· One of the many ways to measure PMF is the Sean Ellis Test.
The Sean Ellis Test
It asks customers a simple question:
"How would you feel if you could no longer use [product]?"
They have the choice between 'very disappointed'; 'somewhat disappointed'; 'not disappointed'; and 'I no longer use this product'.
If the score (the average of all customers' answers combined) sits at 40% or above, one can be confident their business is satisfying the needs of their target market.
Get help finding product-market fit
Over the last few weeks, I've spent time with Nick, seeing how he coaches teams to product-market fit, making the concept simple and approachable.
Nick uses the value proposition canvas to help teams discover what the market needs, then design, test and iterate the products and services that satisfy the market demand.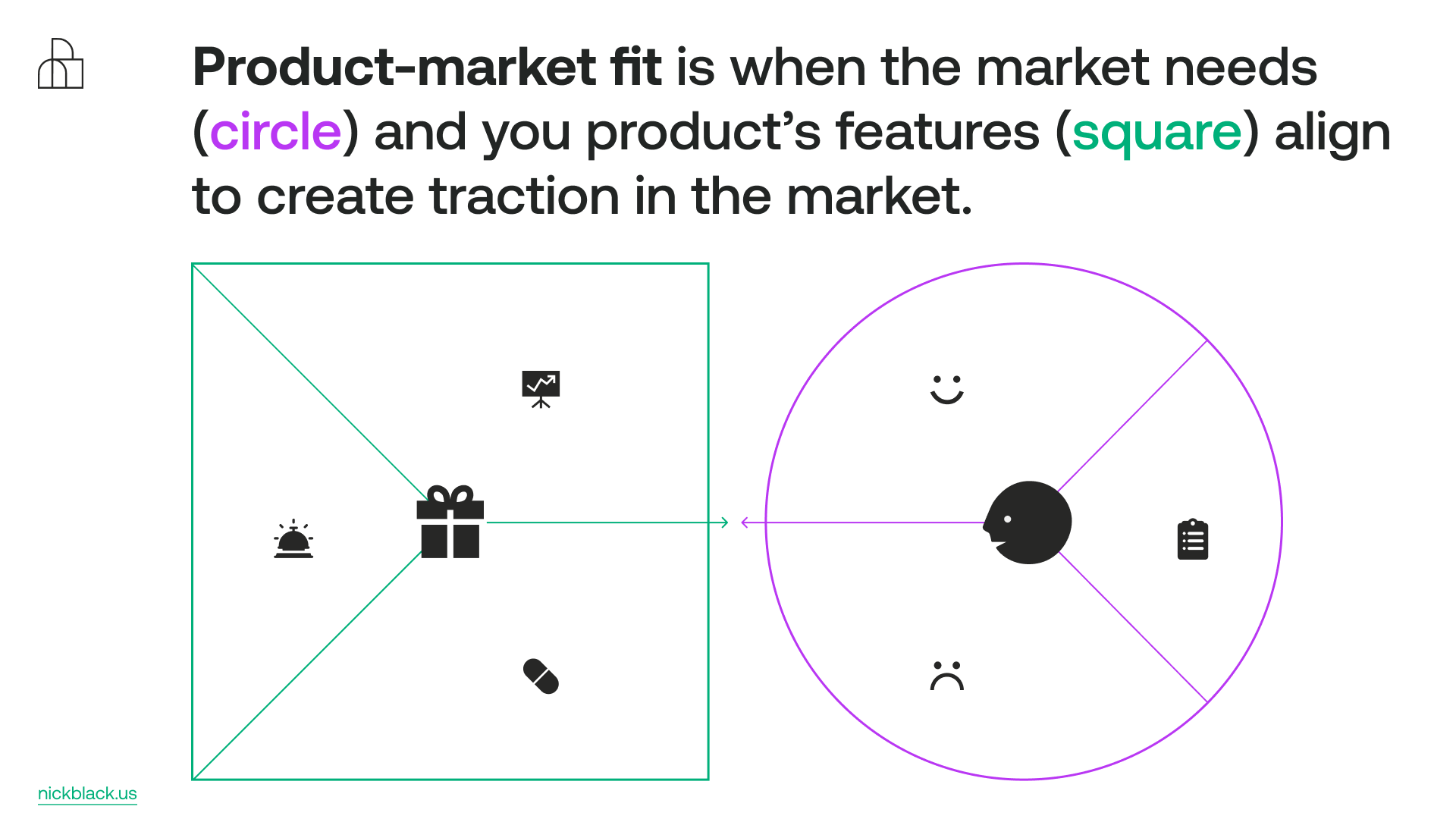 This approach is visual, fast and highly iterative. Here's what Nick's customers are saying:
"Nick's coaching is solving a problem we are grappling with and helping us make products people love"
"Nick takes a complex proposition and simplifies it…Gives founders confidence"
Here's a great blog post that gives a more in-depth view of the workshops as well as providing very recent and insightful customer reviews.
Photo by kate rowe on Unsplash
Like what you read? Hated it?
I would really appreciate it if you would leave some feedback.