Where I am in 2020
Today I live in London, I'm a non-exec director at CloudMade, an advisor to a few startups and an active part of the startup community as a committee member of ICE and through work with different investors.
CloudMade
14 years ago I co-founded CloudMade and set out on the greatest adventure of my life. Over those twelve years, I've built some great products, worked with amazing people, raised funding, and learned from some of the best investors in the industry. In 2016 CloudMade was acquired by Valeo, a French CAC40 automotive supplier, where I am a board member and president, overseeing product management.
CloudMade's software lets car makers personalize the user experiences inside their cars to deliver enormous user delight. This video sums it up nicely.
I am a product person at heart. As a founder of a B2B software platform I've done a lot of selling, I've lead scale-ups, culture, and I have dabbled in marketing. But product is where my passion.
Nothing gives me a kick more than the opportunity to build teams that create products that touch and better the lives of many millions of people. Nothing, perhaps, other than helping people achieve things they thought were impossible.
Joyful user experiences
I studied Archaeology BSc at UCL in 2000-2003 and in 2005 I re-enrolled to study Geospatial Sciences. In 2005 Google Maps had launched in the UK and, without me really knowing it, set me on a path that I would follow up to today. Google Maps did two things for me: it delivered seemingly never-ending maps and aerial imagery into my web-browser and the then-new AJAX technique made a seamless user experience with scrollable, zoomable maps. Access to simple content through a joyful interface really stuck with me.
Location-based services, Ruby and JavaScript
What I learned outside the classroom at UCL was far more impactful than what I learned on the inside. I went far deeper on the mandatory Visual Basic courses than I needed to pass and I taught myself Java, JavaScript, and then Ruby. I was captivated by the world of web-technologies and location-based services - the former was hitting the peak of Web 2.0 with services like Flickr and technologies like Ruby on Rails and AJAX delivering user experiences that we could only dream of a few years before.
User editable maps of the world
OpenStreetMap was a huge revelation for me. The idea that a bunch of punk hackers and mappers could be wandering around with £100 GPS units, challenging the hegemony of $8Bn companies like Navteq and quasi-government departments like the Ordnance Survey, or helping map slums of the developing world was a game-changer. As was the ethos of open-source - the ability to reach deep inside into the brains of a machine and comprehend how a bit went from my screen to a server was life-changing.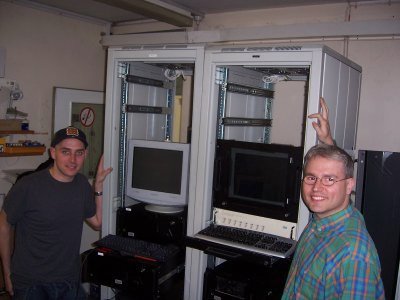 Installing servers for OpenStreetMap at UCL in 2005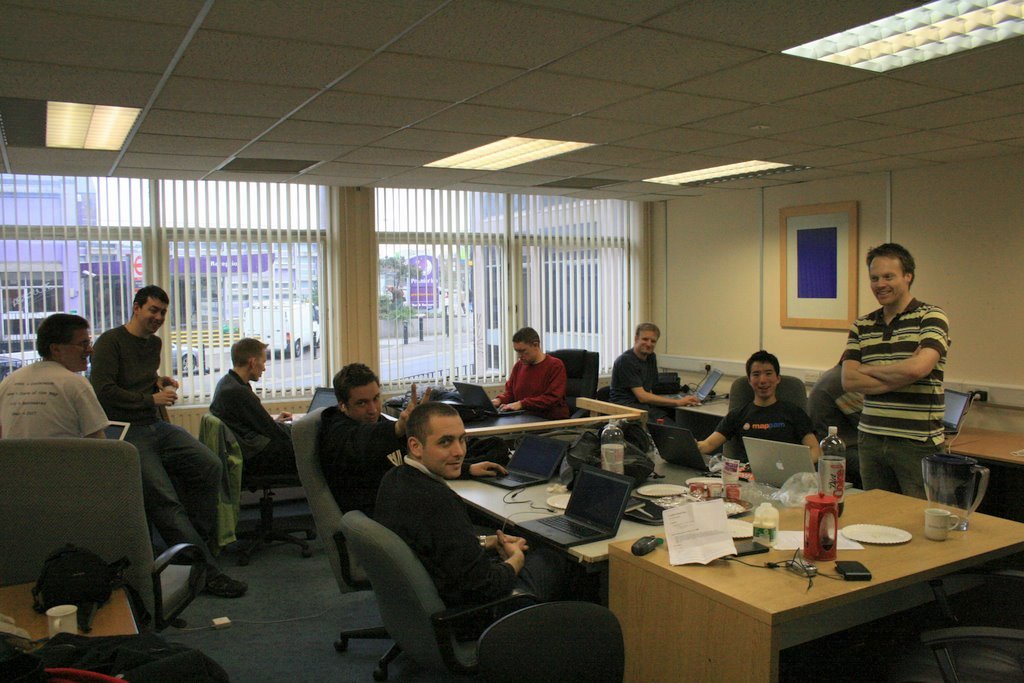 Hacking on OpenStreetMap at CloudMade's offices in 2006
I knew what I wanted to do - to combine OpenStreetMap, web-technologies, and mobile location-based services into some kind of business.
Mobile user experiences
In the summer of 2006, 12 months before the iPhone started its transformation of the world as we know it, I focussed my master's dissertation on the OpenStreetMap project.
Contributing data to OSM was really difficult to do. I had a Symbian phone, a Bluetooth GPS and with thousands of lines of Java, I created a very basic app to help people add data on the go to the map-making project.
The app was really bad, it barely worked and I don't think anyone ever used it. But from it, I learned all I needed to know about the future of mobile and location-based services and I knew what I wanted to do - to combine OpenStreetMap, web-technologies, and mobile location-based services into some kind of business.
Competing with Google
In March 2008 we raised €2.8M Series A from Sunstone (now Heartcore) to turn CloudMade into the world's premier maps and location-based services developer API. The idea was that building on top of the freely available OSM data, we would compete with Google Maps on quality, completeness and on price and build a complex, hard to copy, tech stack to do so. We believed that by being developer-centric and leveraging our team's first-hand knowledge fo OSM, we would grab a huge market share in the developer market.
I was personally driven by a motivation to show the world how fun, simple, and engaging maps powered by crowdsourced data could be if you could unleash the potential of developers to build cool, unexpected apps.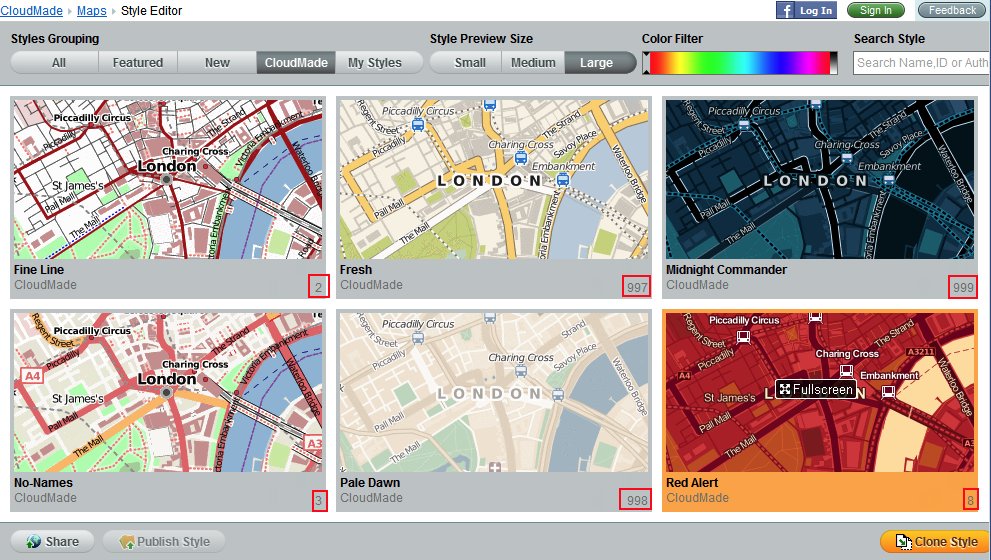 CloudMade's Style Editor around 2010 allowed developers to create a custom-designed map style from an easy to use web interface within a few minutes. We developed an entire stack of map rendering technologies in order to deliver custom maps via a standard web interface.
A few pieces of the strategy went wrong:
Apple's iPhone and then Google's Android became the only two shows in town. They invested heavily in maps that they made freely available to their developers.
Despite a lot of investment, we could not get the OSM data to improve fast enough outside of a few key cities.
So our product never reached the quality level needed to monetize.
At one point we had around 20,000 developers building all kinds of mobile and web-apps, we had innovated products that let developers create custom-designed maps, we were delivering vector maps as SVGs and all manner of points of interest, vehicle, pedestrian and cycle routes as JSON, we were leaders in offline downloadable maps years before Google added the feature.
But the delight just wasn't enough for us to monetize vs Google whose ambition, mapping strategy, and investment dwarfed ours, in-spite of us raising $12M from Greylock in 2010.
Losing the community
We made some big missteps with the OpenStreetMap community, something that taught me a lot about transparency. I had not made my intentions clear enough: I always intended to build a commercial layer on top of the OSM data in full respect of the OSM license that I had been part of drafting and the Foundation (the UK company that owns OSM infrastructure) that I had been part of creating.
But my actions didn't speak loud enough, mistrust grew in the community just as we launched an editor intended to make contributing to OSM far easier. It didn't help that the first version of the editor was also awful. I rushed the product to market to meet deadlines and paid a heavy price for it.
We had a shitty product, a community base that didn't trust our intentions and a half-complete map that we could not monetize. It was time to move on.
Firing staff and killing products is difficult today, but back then it was excruciating.
Retrench and regroup
Around 2011 it was clear that the compete head-on with Google and Apple with a substandard product strategy wasn't going to work. We pivoted our location-based technology stack, originally designed to take in OSM data, modifying it to aggregate all manner of location-based content.
As a founder and board member, I've been through three or four major expansion and contraction phases in the last 15 years. Every-time you need to say goodbye to team members its painful, you can't help but feel responsible like you failed. Every-time you shutter products you have to admit to yourself that they really weren't that great in the first place, that no amount of investment is going to make them right. Firing staff and killing products is difficult today, but back then it was excruciating.
We needed to find customers who would pay and we needed to find them fast
Find people who will pay
The vision back in 2011 was to build a system that would aggregate, clean, and merge together the multitude of new location-based services that had sprung up on the back of GPS-enabled smartphones (e.g. Foursquare, Yelp, etc), putting vast amounts of local data into the hands of developers. This time we were going after developers inside enterprises who we believed would have a budget to pay us upfront.
The mood in 2011 was similar to that we see today and will continue to see for some time as COVID-19 ravishes, recedes, and re-emerges, reaping huge economic damage as it goes. The party was over. We were no longer going to subsidize developers choosing to use OSM vs Google - we needed to find customers who would pay and we needed to find them fast.
This was a stunning lesson to learn in commercial reality. Seemingly overnight we went from a build it and they will come developer strategy to a direct B2B sales strategy.
We sliced the world into 6 or so markets - segments like hotels, transportation, navigation, web sites - and so on. We went out to each one, we showed them what we had and what our vision was and we unashamedly asked them to pay us for the services we could deliver.
It worked, we had paying customers.
It dawned on me that the whole user experience paradigm in cars was broken
The battle for attention
By 2011 I had moved to San Francisco, then to Berkeley when my first son was born. I was commuting 3 hours a day between Berkeley and our office in Menlo Park, a pretty typical silicon valley experience. I had a lot of time to think.
It dawned on me that the whole user experience paradigm in cars was broken. This was 2012 and everyone who was anyone was doing app startups. Apps were taking over the world. To me, it seemed impossible that apps would take over in the car.
As we now understand the smartphone is attention heavy - the whole UI paradigm is designed to suck in the user's attention and give rewards back in return for attention. That model doesn't work when you are driving. In a car the driver has a lot of time, they want to be entertained, but they are short on attention.
Onto automotive
With this insight in mind, we created some quick and dirty prototypes of a system that used basic GPS data to learn the driver's habits so that it could predict their needs. The idea was that on getting into my car in the morning, all of the settings from the seat heating to the radio would be set up for me. As I drove the car would pick the right time based on the context to show me the content, the call list, the podcast that I needed.
With CloudMade, the kicker for the carmakers was that all of the data created would be controlled by them. Google's intention was clear - they wanted to use Android Auto in the same way as they'd used Android on smartphones - to dis-intermediate the carmaker and take full ownership of the driver as a previous source of data and attention.
We positioned ourselves as the anti-Google, and it worked.
Scaling automotive companies
We had a product that was delightful, it was well-differentiated and we believed that carmakers would pay for it. Now we had to face up to the realities of the car industry. Long sales cycles (5+ years from the first contact to purchase order is not uncommon, then 2-3 more years for the car to ship), huge and complex organizations and continued series of crises and threats (from EV to autonomy to mobility to COVID-19) that would shake the car industry between 2012 and today.
The traditional VC fund cycle of 10+2 years is not well suited to a deep tech application that takes several years to get ready to sell, then 5-7 years to monetize.
I had met Valeo representatives at industry events around silicon valley and in 2016 Valeo acquired CloudMade.
The vision is nicely summed up here:
Lessons learned
Some of the biggest lessons I have learned at CloudMade are as follows. There are more, but for brevity here are the top three:
Culture first: people build products and culture builds people. I failed to spend enough time and attention-getting culture right, it should have been my top priority.
Money in the bank: everyone knows that you don't count your money until the cheque clears. At CloudMade, we have learned that the same applies to customer commitments for products. They don't want it until the cheque has cleared. There is little I can do about enterprise sales cycles. What we should have done back in 2014 at CloudMade is take our product direct to the user - if we had used a platform like Kickstarter to launch an aftermarket navigation device designed by us, powered by us with the help of other software suppliers, we would be years ahead of where we are today.
Assume good intentions but don't assume people assume you have good intentions: whilst I really do deep down believe in transparency, something went wrong along the way and my intentions have not been clear enough to staff partners and communities. I was also slow to realize the power of assuming good intentions. When you truly believe that the people you work with are capable, talented, and able to solve their own problems, then you can help people do things they thought were impossible.
The future
The future for me is all about learning from the past and then applying what I've learned to help the companies I start, invest in, and meet along the way be as successful as possible.
The kind of products, companies, and people I love to work with are:
A company that is product and delight centric, a business where the product is what truly makes a difference.
Some areas that excite me are developer tools, web technologies, travel, productivity, wellbeing, wellness, and fitness.
A founding team and board on a shared journey of learning and discovery with a passion to build and scale world-class products.
The stage is less important to me - I am open to working with founders from the early Seed stage through to scale-ups.
If this sounds like you, please get in touch